At the Microsoft keynote from the E3 2015 press conference, that took place in Los Angeles just few days ago, Microsoft presented a long awaited preview of the famous game Minecraft played with HoloLens.
In fact, it was already known that Microsoft and Mojang were developing a version of Minecraft for the augmented reality headset HoloLens, and, as expected, they decided to give a spectacular proof of the potentialities of the game and the headset together.
In front of the E3 public, Microsoft's Phil Spencer presented the special version of the game with HoloLens in action.
As first thing, the sandbox version of the game, thanks to augmented reality, can be played wherever: in the video you will see that, with just only a vocal command, a complete, playable Minecraft world appeared on a table. The stability of the hologram, even while the man was moving around, remained perfect, as well as the visibility of the objects. The view was perfect even zooming closer, so much to see inside the buildings.
There was a moment when the presenter wanted to follow another player in the game: the vision zoomed on the player and smoothly started to follow the character.
The commands to interact with the game are just the voice or the Microsoft's "air tap" gesture where you raise your index finger and tap down, but there's the possibility of using also the typical controller.
The news are many and the public was very happy of these new features; HoloLens is waiting to be out around January 2016 with the special Minecraft version at a very affordable price.
At Build 2015, the annual Developer Conference hosted by Microsoft from April 29 to May 1, there was finally some news about HoloLens. Every Augmented Reality fan was for sure waiting something more about Microsoft's headset, and the company made them happy.
HoloLens was the true star of the conference: since it is in development from some years, big news is always welcome and, hopefully, expected soon, especially since it is strictly linked to Windows 10 launch.
Alex Kipman, the official speaker for the HoloLens project, during the conference made a demonstration of what HoloLens and Windows 10 will look like together and showed some videos of the impact that this project would have on different parts of our lives:
Also, he told something more about the headset, in particular trying to clarify the definition of it:
"The HoloLens has been repeatedly referred to as being holographic. Microsoft has even called its built-in processor a holographic processor. So the very first thing to say is that this is not a holographic display and it has nothing at all to do with holography.
[Instead] it is an augmented reality (AR) headset that … projects a stereo pair of images, one to each eye, just like a virtual reality headset. The difference is that the visor is transparent and you can see the 3D generated image embedded into the natural, real world, view."
All this news is interesting, and we can't wait to see it in action. For now, anyway, we have to hope to get our hands on a prototype or to just dream reading the articles of those who tested the device: Microsoft announced that it would offer developers at Build access to "hundreds" of HoloLens devices so that they can experience the technology first-hand, but Augmented Reality fans will still have to wait for a market version of the device. Some rumor going around claims that maybe the headset will be released in September 2015 and it will cost about $500. Will it be true?
Continue to follow us to know more about Microsoft HoloLens will be released and to remain always up to date with Augmented Reality news!
venerdì, 06 Febbraio 2015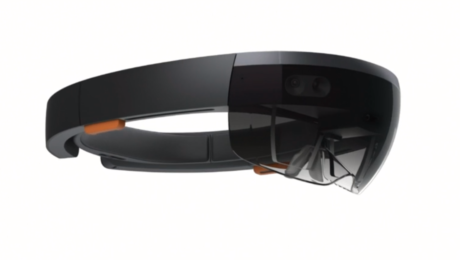 Some days ago a new augmented reality headset was added to the famous trio Google Glass, Oculus Rift and Samsung Gear VR: Microsoft, during its worldwide streaming event "Windows 10: Next Chapter", presented various projects that will be developed in next months. Among the others (not less than Windows 10 and the new Microsoft's browser) there's a particular one which is very interesting to us: we are talking about the suite of augmented reality software called Windows Holographic and the related augmented reality headset, named HoloLens.
The Redmond company didn't use the words "augmented reality" but "holograms", still we know what that means: this will probably be the yet-missing mainstream AR set. In fact, at the moment Google Glass has just few AR apps, while Oculus Rift and Samsung Gear VR are more centered on virtual reality. HoloLens seems to be finally a true AR headset, which puts in communication our daily world with the virtual world.
As Microsoft's Alex Kipman said: "Until now, we've immersed ourselves in the world of technology, but what if we could take technology and immerse it in our world?"
Kipman didn't describe in depth HoloLons technology, but hinted that they are more sophisticated than the other headsets around: e.g. they create the illusion of depth showing to each eye a different plain image. There's more: first, it seems it will not use markers as e.g. QR codes; second: the headset itself is very close to a pair of normal glasses, so definitely wearable and light (and why not? – even classy).
During the presentation event, Microsoft's executives Joe Belfiore, Terry Myerson and Alex Kipman showed some examples of everyday use for HoloLens: how to adjust a broken pipe, make a Skype call directly on a wall and also how to build Minecraft buildings anywhere we want. There was also a demo on how to sculpt 3D printable models. These uses open this technology to almost every kind of people, making HoloLens, as we said before, the first mainstream AR headset; we are sure that this new product, with the related software, will be a success.
But this powerful techonology, of course, can be used even on higher levels: in fact, last but not least, Jet Propulsion Laboratory of NASA is working with Microsoft to see if they can use holograms in scientific research.
It's not strange, in these times, to read on the web users saying that sci-fi is here. Yes, and it seems it just started.
Watch a video: