martedì, 10 Febbraio 2015
No words needed, just a WOW: this is our claim, our mission and the future of your marketing experience.
We updated our platform to give you and your customers an even better way to enjoy your brand: why limit your marketing to the usual channels when you can amaze your audience?
53% of people don't believe in advertising. 86% skip TV ads. An incredible amount of money is spent every year in advertising people don't remember.

You can change this and transform your product in an unforgettable experience for your customer.
Our idea is that there is nothing more effective than an emotion to surprise, impress and interest your customers. We help you doing so with the latest technologies mixed with an aesthetical cure that will end in a…WOW! Using Augmented Reality, Geolocation and Proximity Marketing, we help you deliver an amazing experience to your customers.
This is called Experiential Marketing and is a form of advertising that focuses primarily on helping consumers experience a brand.
Imagine making your products come to life directly in the hands of your customers, so they can see and try them: would it not be revolutionary? Whichever is your field, augmented reality will help you creating a WOW experience.
You want to try it yourself? It is easy: download the mobile app for Android or IOS and then our press kit.
Choose your topic between Catalogues, Packaging, Museums, Tourism, Architecture, Design, Showroom, Engagement, Science and Publishing.
Then scan the related tag with your smartphone and be ready to… WOW!
Are you ready for the new WOW experience? Augment your experience with Experenti: Sense – Feel – Act
venerdì, 06 Febbraio 2015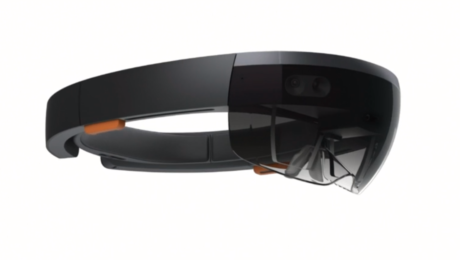 Some days ago a new augmented reality headset was added to the famous trio Google Glass, Oculus Rift and Samsung Gear VR: Microsoft, during its worldwide streaming event "Windows 10: Next Chapter", presented various projects that will be developed in next months. Among the others (not less than Windows 10 and the new Microsoft's browser) there's a particular one which is very interesting to us: we are talking about the suite of augmented reality software called Windows Holographic and the related augmented reality headset, named HoloLens.
The Redmond company didn't use the words "augmented reality" but "holograms", still we know what that means: this will probably be the yet-missing mainstream AR set. In fact, at the moment Google Glass has just few AR apps, while Oculus Rift and Samsung Gear VR are more centered on virtual reality. HoloLens seems to be finally a true AR headset, which puts in communication our daily world with the virtual world.
As Microsoft's Alex Kipman said: "Until now, we've immersed ourselves in the world of technology, but what if we could take technology and immerse it in our world?"
Kipman didn't describe in depth HoloLons technology, but hinted that they are more sophisticated than the other headsets around: e.g. they create the illusion of depth showing to each eye a different plain image. There's more: first, it seems it will not use markers as e.g. QR codes; second: the headset itself is very close to a pair of normal glasses, so definitely wearable and light (and why not? – even classy).
During the presentation event, Microsoft's executives Joe Belfiore, Terry Myerson and Alex Kipman showed some examples of everyday use for HoloLens: how to adjust a broken pipe, make a Skype call directly on a wall and also how to build Minecraft buildings anywhere we want. There was also a demo on how to sculpt 3D printable models. These uses open this technology to almost every kind of people, making HoloLens, as we said before, the first mainstream AR headset; we are sure that this new product, with the related software, will be a success.
But this powerful techonology, of course, can be used even on higher levels: in fact, last but not least, Jet Propulsion Laboratory of NASA is working with Microsoft to see if they can use holograms in scientific research.
It's not strange, in these times, to read on the web users saying that sci-fi is here. Yes, and it seems it just started.
Watch a video: